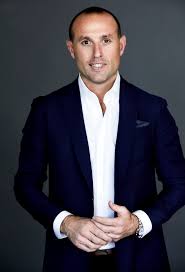 Global Luxury Real Estate Mastermind Podcast
"Top Talent Agent to Top Real Estate Agent: Eric Lavey runs Los Angeles" on Global Luxury Real Estate Mastermind with Michael V. . .
"Top Talent Agent to Top Real Estate Agent: Eric Lavey runs Los Angeles" on Global Luxury Real Estate Mastermind with Michael Valdes Podcast #112
Eric Lavey has been in the top of the Los Angeles market for the lasttwo decades. He started as a top talent agent and is now one of thevery top real estate agents in the market. He uses his entertainmentbackground and brings it to the residential market. One of his secretsis making each of his showings as a "show" with the client as theaudience member. He talks about his secrets of success and how hedominates this market with humility and great ambition.#GlobalLuxuryRealEstateMastermind #HollywoodRealEstate #EricLavey
More About Eric LaveyFrom Brentwood to West Hollywood, Hancock Park to the Hollywood Hills, and out to Venice and Santa Monica, Eric Lavey advises his discriminating clients with the sale or purchase of the most sought-after real estate in today's market. He regularly traverses the entire city, deriving energy from the diverse neighborhoods, architectural styles and culture of one the world's greatest cities – Los Angeles.Eric emphasizes an honest, pragmatic and efficient approach in his business. He doesn't shy away from directness, and he is known in the industry as a professional who gets to the truth as a way of getting things done – more of someone to hold their hand rather than someone who gets in their face. Eric also rejects the "one-size-fits-all" approach when working with his clients, as he is a student of humanity who is curious about the backgrounds and interests of each and every client – and how these particular details can help in the process. Eric observes, listens and asks clear questions to better understand each person's distinct needs. He then invests the time and resources needed and remains laser-focused until he has helped his clients reach their ultimate goals. This bespoke approach has earned Eric recognition by the Los Angeles Business Journal as one of the Top 75 residential agents in Los Angeles based on more than $90M in sales in 2018.Before his career in real estate, Eric was employed with one of the world's leading Hollywood talent agencies, which has given him the knowledge and abilities to negotiate the most favorable and creative deals for his clients. He has built an extensive and varied client roster that extends far beyond Los Angeles – and with his thorough knowledge and expertise of the Palm Springs market, for example, (where he owns a classic, mid-century architectural property) Eric seamlessly bridges the gap to the "West Coast Hamptons."Comfortable handling transactions of any size, Eric takes the entire process very seriously, starting with market research and analysis and moving onto carefully-crafted and deliberate marketing strategies. The real estate industry changes daily, and Eric is always on top of the latest market conditions. This approach has gained Eric top producer awards, invitations as a speaker to industry events, press from such esteemed outlets as The Wall Street Journal and The Hollywood Reporter, and a committed group of appreciative repeat and referral clientele. CalBRE# 1511292.

Go here for more

More About Michael Valdes
Michael Valdes is the Senior Vice President of Global Servicing for Realogy Corporation. In that role he oversees the international servicing platform for all Realogy brands including Century 21, Coldwell Banker, ERA, Better Homes & Garden, Corcoran, Climb and Sotheby's International Realty in 113 countries. He has been with Realogy in a variety of roles for the past 14 years. Prior to joining the firm, Mr. Valdes was Director of Private Banking at Deutsche Bank for just under a decade where he oversaw a book of business of just under $1 billion. He has the distinction of being the first Director in the United States of Latino descent.

Mr. Valdes is the Chair of the AREAA Global Advisory Board and co-host of the 2020 AREAA Global Luxury Summit. He is also a current member of the NAHREP Corporate Board of Governors. Additonally, he is a member of the Realogy Diversity Board as well as the Executive Chair of the ONE VOZ, Hispanic ERG for the firm. He is a former Board Member of Mount Sinai Hospital in Miami Beach as well as the Shanti Organization in San Francisco. Michael was also a Board Member of Pink & Blue for 2, an organization started by Olivia Newton-John to promote breast and prostate cancer awareness. He currently resides in New York City and has a home in Miami.