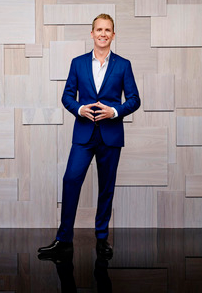 Global Luxury Real Estate Mastermind Podcast
Andrew Greenwell, former star of Million Dollar Listing San Francisco "Have to and Get to Markets, San Francisco and Hawaii" on. . .
Andrew Greenwell, former star of Million Dollar Listing San Francisco "Have to and Get to Markets, San Francisco and Hawaii" on Global Luxury Real Estate Mastermind Podcast with Michael Valdes #114
Andrew Greenwell shares his entrepreneurial spirit that came from his humblebeginnings being raised from his mother as a single parent that started a billion-dollar construction company, and inspired him to start his own brokerage company at 19 years of age. As the star of a globally syndicated show that brought him mixed notoriety, he learned to harness that to continue to build his success. A great friend of Michael, this emotional and candid conversation brings great lessonsfor the listener.
More About Andrew GreenwellWith over a decade of experience, Andrew Greenwell is the CEO and principal at Venture Sotheby's International Realty, specializing in ultra-luxury real estate in the San Francisco area.  Throughout his career, Greenwell has sold nearly four billion dollars of real estate between his own sales and the deals he has overseen as CEO. Greenwell founded his own brokerage at age 19, while earning his college degree at Florida State University and simultaneously grew the company to three offices. After being named one of Realtor Magazine's "Top 30 Realtors in America Under 30," he decided to leave Florida behind and head west to Seattle, where he spent four successful years, before settling down in the Bay Area. Prior to starting his own company in September 2014, he worked as a CEO and team leader of Keller Williams Tri-Valley Realty, managing more than 150 agents. 
With a work hard, play harder approach, Greenwell's philosophy is "go big or don't go at all."  Driven to succeed, this real estate shark is extremely impatient and wants everything done yesterday.  He doesn't hold his tongue, and if you cross him, you better sleep with one eye open. When he isn't buying the domain names of his competitors, Greenwell is busy planning his extravagant wedding with his fiancé Paal. 
More About Michael Valdes
Michael Valdes is the Senior Vice President of Global Servicing for Realogy Corporation. In that role he oversees the international servicing platform for all Realogy brands including Century 21, Coldwell Banker, ERA, Better Homes & Garden, Corcoran, Climb and Sotheby's International Realty in 113 countries. He has been with Realogy in a variety of roles for the past 14 years. Prior to joining the firm, Mr. Valdes was Director of Private Banking at Deutsche Bank for just under a decade where he oversaw a book of business of just under $1 billion. He has the distinction of being the first Director in the United States of Latino descent. Mr. Valdes is the Chair of the AREAA Global Advisory Board and co-host of the 2020 AREAA Global Luxury Summit. He is also a current member of the NAHREP Corporate Board of Governors. Additonally, he is a member of the Realogy Diversity Board as well as the Executive Chair of the ONE VOZ, Hispanic ERG for the firm. He is a former Board Member of Mount Sinai Hospital in Miami Beach as well as the Shanti Organization in San Francisco. Michael was also a Board Member of Pink & Blue for 2, an organization started by Olivia Newton-John to promote breast and prostate cancer awareness. He currently resides in New York City and has a home in Miami.