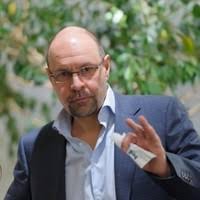 Global Luxury Real Estate Mastermind Podcast
Andrei Manoukovski "From Economics Professor to Developer" on Global Luxury Real Estate Mastermind with Michael Valdes Podcast . . .
Andrei Manoukovski "From Economics Professor to Developer" on Global Luxury Real Estate Mastermind with Michael Valdes Podcast #107
An interesting conversation with an exceptional educator, Andrei Manoukovski who became a successful real estate developer in his native Russia. He has now acquired the Sotheby's International Realty franchise license for many strategic territories where Russians are purchasing properties
More About Andrei Manoukovski
Andrei Manoukovski is a former Professor of Economics at the University of Moscow and visiting Professor at Harvard. Mr. Manoukovski is the Founding Dean of the first International Business School in Moscow bringing the western principles he learned in the United States and London and applying them to his native country. He continued his entrepreneurial spirit and was one of the most successful developers in Russia for many years. Andrei is currently Chairman of the Board for Russia, Cyprus, Bulgaria, Hungary and Slovenia Sotheby's International Realty. He was a former Board member of the Toronto Symphony Orchestra and Chairman of the Toronto Chamber Orchestra. He is fluent in Russian, English and French and owns homes in Russia, Cyprus and Canada.
More About Michael Valdes
Michael Valdes is the Senior Vice President of Global Servicing for Realogy Corporation. In that role he oversees the international servicing platform for all Realogy brands including Century 21, Coldwell Banker, ERA, Better Homes & Garden, Corcoran, Climb and Sotheby's International Realty in 113 countries. He has been with Realogy in a variety of roles for the past 14 years. Prior to joining the firm, Mr. Valdes was Director of Private Banking at Deutsche Bank for just under a decade where he oversaw a book of business of just under $1 billion. He has the distinction of being the first Director in the United States of Latino descent.

Mr. Valdes is the Chair of the AREAA Global Advisory Board and co-host of the 2020 AREAA Global Luxury Summit. He is also a current member of the NAHREP Corporate Board of Governors. Additonally, he is a member of the Realogy Diversity Board as well as the Executive Chair of the ONE VOZ, Hispanic ERG for the firm. He is a former Board Member of Mount Sinai Hospital in Miami Beach as well as the Shanti Organization in San Francisco. Michael was also a Board Member of Pink & Blue for 2, an organization started by Olivia Newton-John to promote breast and prostate cancer awareness. He currently resides in New York City and has a home in Miami.