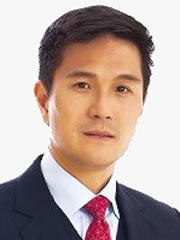 Global Luxury Real Estate Mastermind Podcast
James Huang "If You Do What You Want, You Are Retired" on Global Real Estate Mastermind with Michael Valdes Podcast #111. . .

James Huang on Global Real Estate Mastermind with Michael Valdes Podcast #111

The coronavirus and luxury real estate provides the backdrop for a very timely conversation with James (Jim) Huang, President of AREAA (Asian Real Estate Association of America) as well as President of Sperry Commercial.  Host Michael Valdes and Jim Huang speak about the global coronavirus, lowering of Federal rates, Bank of England lowering rates and the globalopportunities that currently exist.

More About James (Jim) Huang

Prior to joining Sperry Commercial Global Affiliates, James was thefounder and CEO of BRC Advisors, a full-service commercial real estatebrokerage firm based in LA and specializing in investment sales andleasing, property management and advisory services, debt and equityinvestment platforms, and construction design/build services to anational client base. With seven offices throughout SouthernCalifornia and over 100 commercial brokers, James successfully led ateam of real estate professionals who shared the same innovativeapproach to commercial real estate; a belief in the power of superiormarket knowledge and exceptional client service. James brings with himmore than 20 years of experience in the commercial real estateindustry and currently sits on several advisory boards of both localand national industry organizations.

 
More About Michael Valdes
Michael Valdes is the Senior Vice President of Global Servicing for Realogy Corporation. In that role he oversees the international servicing platform for all Realogy brands including Century 21, Coldwell Banker, ERA, Better Homes & Garden, Corcoran, Climb and Sotheby's International Realty in 113 countries. He has been with Realogy in a variety of roles for the past 14 years. Prior to joining the firm, Mr. Valdes was Director of Private Banking at Deutsche Bank for just under a decade where he oversaw a book of business of just under $1 billion. He has the distinction of being the first Director in the United States of Latino descent.

Mr. Valdes is the Chair of the AREAA Global Advisory Board and co-host of the 2020 AREAA Global Luxury Summit. He is also a current member of the NAHREP Corporate Board of Governors. Additonally, he is a member of the Realogy Diversity Board as well as the Executive Chair of the ONE VOZ, Hispanic ERG for the firm. He is a former Board Member of Mount Sinai Hospital in Miami Beach as well as the Shanti Organization in San Francisco. Michael was also a Board Member of Pink & Blue for 2, an organization started by Olivia Newton-John to promote breast and prostate cancer awareness. He currently resides in New York City and has a home in Miami.